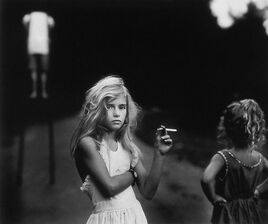 Barnforskningen skiljer på barnperspektiv och barns perspektiv. Att skilja på barnperspektiv och barns perspektiv handlar liksom att skilja på barnkultur/barns kultur om att definiera vem det är som formulerar perspektivet. Är det barnen själva eller någon som talar i barnens ställe?
Det fina barnperspektivet
Edit
Barnperspektiv är ett ord som används i många olika sammanhang och som har stor retorisk kraft. Att ha ett barnperspektiv är alltid fint, och politiker av helt skilda färger har inte svårt att enas om att vi bör ha ett barnperspektiv, vad det än gäller. Men vad betyder det egentligen att ha ett barnperspektiv, och hur verkar det, eller inte, i scenkonsten och samhället? Många pratar om vikten av att ha ett barnperspektiv men skiter i barns perspektiv i praktiken.
Talar till exempel ung scen/öst i barnens ställe? Är scenkonstnärer insatta i barns perspektiv? Ska och kan barns perspektiv få plats på en teater , och i sådant fall hur? Är Done Did Do ett sätt att inkludera barns perspektiv, eller är det vårt vuxna välvilliga barnperspektiv som styr metod , process och föreställning?
"Ska barnen vara medkonstnärer eller ska de få vara med oss konstnärer?"
Malin Axelsson, konstnärlig ledare ung scen/öst
Ad blocker interference detected!
Wikia is a free-to-use site that makes money from advertising. We have a modified experience for viewers using ad blockers

Wikia is not accessible if you've made further modifications. Remove the custom ad blocker rule(s) and the page will load as expected.