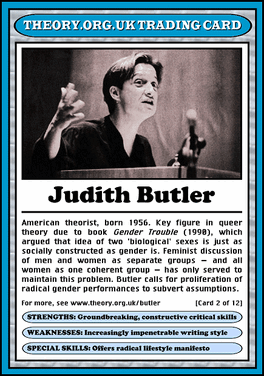 Judith Butler (född 1956) är en amerikansk politisk filosof som har varit viktig i framväxten av queerteori. Hon slog igenom 1990 med boken Gender Trouble – "Genustrubbel".
Den heterosexuella matrisen
Edit
Butler menar att heterosexualitet inte är naturligt utan ett inlärt beteende, något som vi fostras till. Vi imiterar det som vi är överens om är heterosexuellt, imiterar och kopierar det som vi är överens om är "kvinnligt" eller "manligt", men det finns inget original, ingen sanning om vad en kvinna/man är. Vad som uppfattas som heterosexuellt "okej" förändras också över tid, liksom vad som betraktas som manligt och kvinnligt. Vi görs till kvinna och man och vi görs till heterosexuella. Denna tvångsmässiga inlärning och disciplinering kan vi se som ett maktsystem, och Butler kallar detta maktsystem för den heterosexuella matrisen.
Ad blocker interference detected!
Wikia is a free-to-use site that makes money from advertising. We have a modified experience for viewers using ad blockers

Wikia is not accessible if you've made further modifications. Remove the custom ad blocker rule(s) and the page will load as expected.