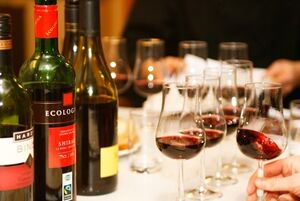 Utvärdera, att bedöma det resultat som vi har fått av något. Vad fungerar och vad fungerar inte? Vad är styrkan och svagheten i det vi har gjort? Vad är intressant att utveckla, vad kan vi lära oss av det vi har gjort?
Evaluera kan vi göra löpande och/eller efteråt, och på många olika sätt: genom samtal i olika former, enkäter , mätningar, intervjuer eller till och med teckning. Skolklasser i de yngre åldrarna får ofta utvärdera sitt teaterbesök genom att rita teckningar: Vad minns du? Hur kändes det? Vad var bra/dåligt, roligt/skrämmande?
Ad blocker interference detected!
Wikia is a free-to-use site that makes money from advertising. We have a modified experience for viewers using ad blockers

Wikia is not accessible if you've made further modifications. Remove the custom ad blocker rule(s) and the page will load as expected.