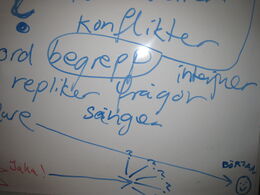 Matematikern David Perkins anlägger ett slags föreställningsperspektiv på begreppet "förståelse" och menar att förstå ett ämne är att vara kapabel att framföra detta ämne på olika tankekrävande sätt, t.ex. att förklara, leda i bevis, komma på exempel, generalisera, lägga till nya idéer, dra paralleller och framföra på nya sätt.[1]
Skulle scenkonst kunna vara ett sätt att försöka förstå? Skulle scenkonstnärernas framförande av olika stycken, kompositioner och texter kunna betraktas som en mängd försök till förståelse av olika ämnen?
Att inte förstå kan få oss att känna oss utanför, dumma, skamsna. Att medvetet inte göra sig förstådd kan användas som en härskarteknik.
"Unfortunately, it is just this little word, 'understand' – the slogan of the enlightened – that causes all the trouble. The child who is explained to will devote her intelligence to understanding that she doesn't understand until she is explained to. But understanding is never more than translating, delivering the equivalences of a text in terms of import or significance alone, without necessarily offering an insight into the working of its reasons. There is nothing behind a text, no false bottom that necessitates the work of an other intelligence, that of an explicator."
ur The Act of Instruction, Jan Ritsema
"Att förstå är inte nödvändigt. Alla kommer aldrig att förstå allt, men att just jag inte förstår betyder inte automatiskt att det är dåligt . Varför skulle man hävda att det obegripliga inte får finnas? Det är en reaktion som ligger bakom mycket av världens rädsla och ondska. Att ta del av det man inte begriper är en förutsättning för att man ska kunna utvidga sin förmåga att förstå. Tar man bara in det man redan begriper tillkommer aldrig något nytt."
ur Lustpunkten – En bok om inlärning utan utbildning, Åsa Moberg
"Tänk om man kunde förstå Done Did Do på samma sätt som man förstår popmusik."
Tove Sahlin, regissör
Externa länkar
Edit
Ad blocker interference detected!
Wikia is a free-to-use site that makes money from advertising. We have a modified experience for viewers using ad blockers

Wikia is not accessible if you've made further modifications. Remove the custom ad blocker rule(s) and the page will load as expected.