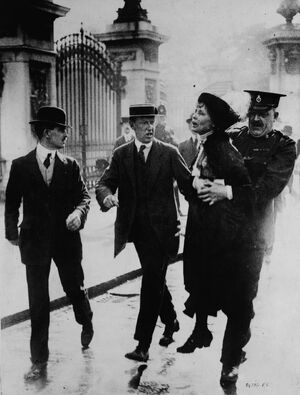 Feministisk praktik är att göra konkreta saker för att uppnå social, politisk och ekonomisk jämställdhet mellan kvinnor och män. Det kan t.ex. vara att byta ut orden "hon" och "han" mot det könsneutrala ordet "hen" och generella pronomen "man" mot "en". Det kan också vara att göra ett kontrakt i hemmet kring hur städning och matlagning ska fördelas mellan man och kvinna. Det kan också vara att kedja fast sig utanför det engelska parlamentet och kräva rösträtt för kvinnor.
En kan utöva feministisk praktik i ett scenkonstprojekt, t.ex. genom att fundera över och ifrågasätta hur en gestaltar kvinna och man på scenen.
Feministisk praktik är inte per definition god, den kan också vara fanatisk och våldsam.
Ad blocker interference detected!
Wikia is a free-to-use site that makes money from advertising. We have a modified experience for viewers using ad blockers

Wikia is not accessible if you've made further modifications. Remove the custom ad blocker rule(s) and the page will load as expected.