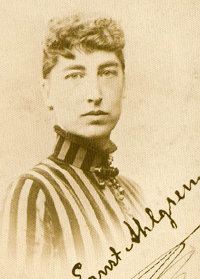 Historisk är den tanke eller företeelse som kommer från det förflutna.
Att kritisera scenkonsthistorien och skriva om teaterhistorien är en feministisk praktik.
Stockholms Stadsteaterns projekt Modärna kvinnor och Riksteaterns Spetsprojekt har sysselsatt sig med att skriva om den svenska teaterhistorien genom att uppmärksamma glömda dramatiker som Alfhild Agrell (1849-1923), Frida Stéenhoff (1865 - 1945), Victoria Benedictsson (1850-1888), Anne Charlotte Leffler (1849-92).
Externa länkar
Edit
Nationella dramaturgiatet, pjäsbank som uppmärksammar vår glömda teaterhistoria
Ad blocker interference detected!
Wikia is a free-to-use site that makes money from advertising. We have a modified experience for viewers using ad blockers

Wikia is not accessible if you've made further modifications. Remove the custom ad blocker rule(s) and the page will load as expected.