Ett feedbacksystem som är användbart när vi i en arbetgrupp vill vara noga med att lyfta varandra i arbetet.
Att välja sina ord är viktigt då man ska ge feedback till en annan konstnär.
Andrew Morrish
Edit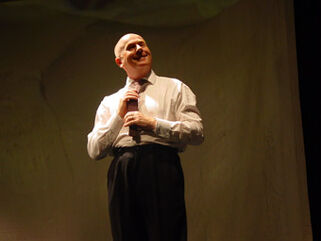 Improvisatören och inspiratören Andrew Morrish undervisar i att de första fem åren man arbetar tillsammans med någon hålla sig till ordvalen " I liked" och "I noticed" då man verbaliserar vad man såg i t.ex. ett förslag på en scenisk idé eller en imrpovisation. Naturligvis blir det tydligt att det finns en del att arbeta på om den som ger feedback säger:
"Jag gillade din entré, den var koncentrerad och hade en tydlig riktining. Jag lade märke till att du sneglade mot dörren under hela presentationen."
Externa länkar
Edit
Ad blocker interference detected!
Wikia is a free-to-use site that makes money from advertising. We have a modified experience for viewers using ad blockers

Wikia is not accessible if you've made further modifications. Remove the custom ad blocker rule(s) and the page will load as expected.