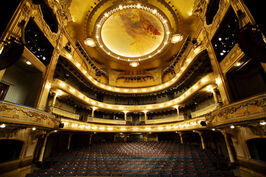 Klass eller samhällsklass är ett samhällsvetenskapligt begrepp som används inom sociologi och statsvetenskap. En samhällsklass är en grupp som har liknande ekonomiska och sociala förutsättningar. Man brukar prata om medelklass, arbetarklass och överklass.
Teatervärlden präglas av medelklassens ideal, bildning och värderingar. Majoriteten av aktörerna inom scenkonsten kommer från en medelklassbakgrund och väljer att skildra medelklassens problem på scenen, för en medelklasspublik, på ett medelklassigt sätt.
Inom scenkonst för barn och unga innebär detta en speciell problematik, i och med att den nästan alltid riktar sig till skolor. I en skola har publiken, till skillnad från i vuxenteater, ofta alla möjliga sorters klassbakgrunder. Forskaren Anna Lund från Växjö Universitet beskriver i sin avhandling Mellan scen och salong hur teatrar skapar utifrån medelklassideal och hur arbetarklassens barn aktivt väljs bort som publik av skolor och teatrar . Det finns en "klassrasism" på svenska teatrar.
"Det är en elitvärld som vi befinner oss i, man slänger sig med begrepp som man tar för givet."
Sandra Stojiljkovic, skådespelerska
Ad blocker interference detected!
Wikia is a free-to-use site that makes money from advertising. We have a modified experience for viewers using ad blockers

Wikia is not accessible if you've made further modifications. Remove the custom ad blocker rule(s) and the page will load as expected.