Det rum i
skolan
där
läraren
undervisar elever. Ofta finns där bänkar, en whiteboard (förr i tiden en svart tavla) och en kateder.
Frihet i klassrummet
Edit
Klassrummet är tänkt för barn men det är vuxna som har byggt det. Kan barnen vara fria och tänka fria tankar i ett klassrum där vuxna har bestämt strukturen? Är det möjligt att känna vila i ett klassrum? Hjälper det att möblera om? Eller är det bara ytlig kosmetika? Kan vi möblera om det mentala klassrummet? Att möblera om klassrummet fysiskt påverkar kanske det mentala klassrummet.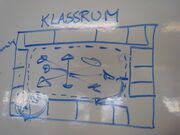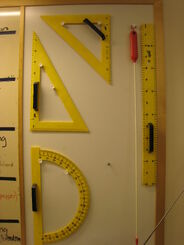 Klassrummets regler
Edit
I klassrummet finns ofta regler och förbud, till exempel:
Lyssna inte på mp3-spelare
Kasta inte godis
Ta av kepsen
Dessa regler påminner mycket om teaterns regler.
Ad blocker interference detected!
Wikia is a free-to-use site that makes money from advertising. We have a modified experience for viewers using ad blockers

Wikia is not accessible if you've made further modifications. Remove the custom ad blocker rule(s) and the page will load as expected.