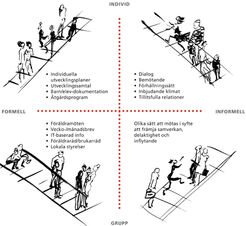 mhället ges makt.
Feminister
brukar prata om önsmaktsordning, d.v.s. att det finns en ordning i samhälenligt vilken kvinnor får mindre
makt
än män. Menningar som styrs av
klass
, sexualitet, "ras"/etnicitet, ålder, etc.
Done Did Do och maktordningar
Edit
I ung scen/östs-Bastardproduktions projekt Done Did Do undersöks maktordningar av olika slag: barn-vuxen, ledare-grupp, teaterinstitution-frigrupp . Parallellt med att makt, platstagande och kunskap i skolan undersöks arbetar Done Did Do med att undersöka samma ledord i det konstnärliga teamet. Teatern som institution har ett rykte om sig att vara väldigt hierarkisk med rigida maktstukturer. Många har försökt att bryta upp dessa gamla arbetssätt. Done Did Do tror att metod avpeglar sig i resultat .
Ad blocker interference detected!
Wikia is a free-to-use site that makes money from advertising. We have a modified experience for viewers using ad blockers

Wikia is not accessible if you've made further modifications. Remove the custom ad blocker rule(s) and the page will load as expected.