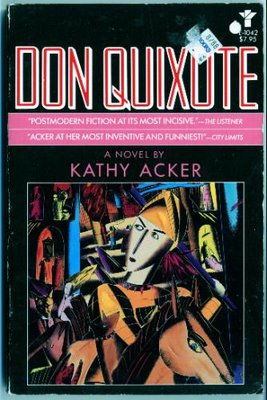 Stöld, efterapning.
Kathy Acker och plagiat
Edit
Författarinnan Kathy Acker använde plagiat som feministisk strategi i sitt skrivande. Genom att stjäla och kopiera , använda bitar av klassisk litteratur, arbeta med collage och förvrängningar av biografier och redan existerande texter , sprängde hon sönder den litterära kanon.
I sitt skrivande tog Acker konsekvenserna av Roland Barthes tankar i den inflytelserika essän Författarens död (1967). Där vände han sig mot litteraturens syn på tid och den bild av författaren som odlades i dåtida litteraturkritik. Han menade att det rådde en sjuklig fixering vid författaren, hans eller hennes person, historia, smak och passioner. När vi tror på Författaren uppfattas han alltid som bokens förflutna: boken och dess författare utgör ett tidsmässigt före och efter. Men Barthes menar att den moderna författaren inte har ett före och efter – han/hon föds helt simultant med sin text. För Barthes finns ingen originalitet i skrivandet, ingen egen röst, bara imitation. Han ser texten som en väv av citat, sammansatt av kulturens oändliga antal källor. Författaren är en kopieringsmaskin, en plagiatör: "the writer can only imitate a gesture forever anterior, never original".
Externa länkar
Edit
Death of the Author, Roland Barthes
Ad blocker interference detected!
Wikia is a free-to-use site that makes money from advertising. We have a modified experience for viewers using ad blockers

Wikia is not accessible if you've made further modifications. Remove the custom ad blocker rule(s) and the page will load as expected.