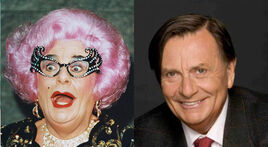 Motsatsen till offentlig.
Det är omöjligt att skilja sin privatperson från den person vi visar i offentligheten eller på jobbet, hur mycket vi än försöker. Även om vi spelar en karaktär eller antar ett alter ego för scenen och använder två skilda namn, som Dame Edna/Barry Humphries, finns det privata alltid med, om inte annat som publikens fantasi om det privata jaget bakom karaktären.
När vi arbetar med stand up utgår vi från våra privata jag och driver med människor och händelser i våra privatliv. T.ex. skämtar Babben Larsson om att hon är tjock. Performanceartisten Marina Abramovic använder sin egen kropp i sina konstverk, och gör konst som utgår från hennes egna privata relationer.
Hur långt kan vi gå i att använda våra privata jag i konsten? Är jag verkligen intressant? När blir jag egoistisk, självupptagen och bara någon som håller på med självonani?
Ad blocker interference detected!
Wikia is a free-to-use site that makes money from advertising. We have a modified experience for viewers using ad blockers

Wikia is not accessible if you've made further modifications. Remove the custom ad blocker rule(s) and the page will load as expected.