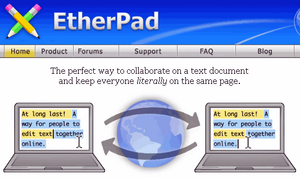 På internet finns möjlighet att samskriva i realtid genom verktyg som etherpad, plotbot, yourworldoftext, google wave. Genom t.ex. dropbox och google docs kan vi dela dokument och öppna dem för kollektiv redigering.
Samskriva kan vi också göra IRL genom att sitta vid ett bord och diskutera, maila olika versioner till varandra som flera ändrar i eller genom att en person skriver storyline och andra skriver manusen.
Externa länkar
Edit
Ad blocker interference detected!
Wikia is a free-to-use site that makes money from advertising. We have a modified experience for viewers using ad blockers

Wikia is not accessible if you've made further modifications. Remove the custom ad blocker rule(s) and the page will load as expected.