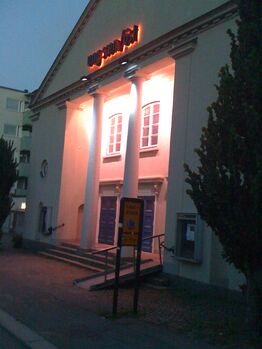 En teater kan vara en plats, ett rum, ett hus.
"Teater är först och främst antropologisk, namnet på ett beteende (att leka , visa upp sig, spela roller, samlas, att vara åskådare som en faktisk eller verklig form av delaktighet ), i andra hand är det en situation, och bara sedan, sist av allt, är det representation."
ur Postdramatic Theatre, Hans-Thies Lehmann, 2006, egen översättning av Malin Axelsson
"[…] det vore hög tid att granska denna idé att teatern i sig är platsen för en gemenskap. Levande kroppar på en scen riktar sig till andra kroppar som är samlade på samma plats, och detta tycks vara tillräckligt för att teatern ska uppfattas som bäraren av en särskild typ av gemenskap som är radikalt annorlunda i förhållande till situationen där individer sitter framför en TV eller biobesökare framför en projektion av ljus och skuggor. Märkligt nog tycks inte den utspridda användningen av bilder och alla slags projektioner i teaterns iscensättningar förändra någonting angående denna uppfattning. Projicerade bilder kan kombineras med levande kroppar eller ersätta dem. Men så länge betraktare är samlade i teaterns rum beter man sig som om teaterns levande och gemensamma väsen var bevarat och som om man kunde undvika frågan: vad är det som händer bland teaterns betraktare som inte skulle kunna äga rum någon annanstans? Vad är det som är mer interaktivt , mer gemensamt hos dessa betraktare, än hos en mångfald av individer som samtidigt tittar på samma TV -program?"
ur Den emanciperade betraktaren av Jaques Rancière
Ad blocker interference detected!
Wikia is a free-to-use site that makes money from advertising. We have a modified experience for viewers using ad blockers

Wikia is not accessible if you've made further modifications. Remove the custom ad blocker rule(s) and the page will load as expected.