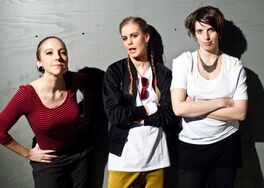 Att lämna barndomen är att sluta skapa. Vägen från barndom till vuxenhet går via utbildningssystemet där vi fostras och disciplineras.
Barnsliga vuxna och vuxna barn
Edit
Var går gränsen mellan vuxen och barn ? Synen på detta har växlat genom historien. Idag ses barnet ofta som en förebild, som kompetent, och den vuxne förhandlar och diskuterar med barnet. Och vuxna kan också vara "som barn" och behöva hjälp och stöd. I Linköpings kommun finns exempelvis kurser där man kan lära sig att vara förälder:
"COPE är ett föräldraprogram för föräldrar som har barn i åldern 3-12 år, men i Linköping har vi framför allt vänt oss till 3-9 år. Föräldrarna tittar på en kort skådespelad filmsekvens där en förälder gör fel i en vardaglig situation mellan föräldrar och barn. Genom ledarledda diskussioner finner föräldragruppen olika lösningar på att hantera de vardagliga föräldra-barnsituationerna. Förlagan till COPE finns i Kanada och programmet hör till en familj av metoder som innebär stöd till föräldern att ge barnet positiv uppmärksamhet och att på ett genomtänkt sätt hantera konflikter."
från Linköpings kommuns hemsida
Barnsliga vuxenkonstnärer
Edit
Att ha kontakt med det barnsliga kan vara till användning för vuxna konstnärer. Det barnsliga är nedvärderat i vårt samhälle och är kopplat till onytta, lek , spontanitet, kaos.
"Most children can operate in a creative way until they're eleven or twelve, when suddenly they lose their spontaneity and produce imitations of 'adult art' […] Many teachers think of children as immature adults. It might lead to better and more 'respectful' teaching, if we thought of adults as atrophied* children. Many 'well adjusted' adults are bitter, uncreative, frightened, unimaginative, and rather hostile people. Instead of assuming they were born that way, or that that's what being an adult entails, we might consider them as people damaged by their education and upbringing."
ur Impro – Improvisation And The Theatre, 1979, Keith Johnstone
[*atrophied=försvagade/undernärda]
Ad blocker interference detected!
Wikia is a free-to-use site that makes money from advertising. We have a modified experience for viewers using ad blockers

Wikia is not accessible if you've made further modifications. Remove the custom ad blocker rule(s) and the page will load as expected.